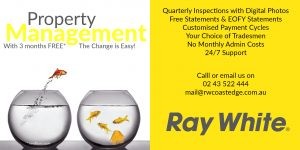 At Ray White Coast Edge, we work very hard to protect the investment and maximize the returns of our landlords. We make sure we treat every property as if it were own and, to put our money where our mouth is, we're offering 3 months FREE Property Management to new landlords.
So if you're looking for a professional and effective Property Management team, call us if you would like to take the stress out of your investment property.
Call us on 02 43 522 444.
3 Months Free Property Management: Terms & Conditions
The promotion is being conducted by Ray White Coast Edge.
This promotion is subject to and governed by these Terms and Conditions. Information on the offer form part of these Terms and Conditions. Participation in this promotion is deemed acknowledgement and acceptance of these Terms and Conditions.
The promotion ends 31st August 2018.
The offer is 3 Months free Property Management Services. Landlords must be a 'new landlord' to Ray White Coast Edge to be eligible to receive 3 months free Property Management.
A 'new landlord' is someone who has not used Ray White Coast Edge services previously. New landlords must book an appointment with Ray White Coast Edge prior to 31st August 2018 to be eligible for the offer. If a new landlord books their first appointment prior to 31st August 2018, yet does not attend, they are not eligible to receive the offer.
Confirmation of the 3 month free offer will be provided to the new landlord by the Ray White Coast Edge representative when attending their appointment. Only one 3 month free offer is available per each new landlord.
The Promoter reserves the right, at any time, to verify the validity of new landlords (identity, age and place of residence). Where any aspect of the promotion is affected by sabotage, theft, fraud or mistake, or does not comply with these Terms and Conditions, the Promoter may in its sole and absolute discretion declare that a person is or is not an Eligible Entrant and elect not to award or cancel the awarding of the offer to that person (as the case may be).
To the extent permitted by law, the Promoter shall not be liable for any loss or damage whatsoever which is suffered by any person (including but not limited to indirect or consequential loss) or for personal injury or death which is suffered or sustained by any person in connection with the conduct of the Promotion, redeeming the offer and/or using the offer. The Promoter does not take any responsibility for the offer being lost, stolen, forged, damaged, destroyed or tampered with in any way at any time including but not limited to during transit or delivery.
The Promoter reserves the right to waive any of the conditions set out in these Terms and Conditions in its absolute discretion. Failure by the Promoter to enforce any of its rights at any stage does not constitute a waiver of those rights.